The true way to learn French : go out with your teacher and learn by meeting French people
Course description

French immersion courses teach you to speak French in real-life situations and to discover French society from the inside.
Course Programme
Morning – Classroom-based French Course
The morning classes are based on concrete French exercises in oral comprehension and expression. The idea is to prepare you for the meetings scheduled in the afternoon with our various speakers. Here, grammar, vocabulary and expression are learned in context. 
Noon – Lunch in a restaurant with your teacher
Lunchtime is the perfect time to enjoy the local restaurants of Montpellier and to put into practice what you have learned in the morning with your teacher.
Afternoon – Meetings and exchanges with French people
The afternoon classes aim to make you speak French with all kinds of French people (we may visit an artist's studio, we may meet a social worker who tells us about his job, an architect who shows us around the new districts of Montpellier, a student who shows us around his university, or a baker who teaches us how to make organic bread, etc.).
Accompanied by your teacher, you will have a complete immersion experience and will discover the different facets of French culture and language.
These real-world exchanges will then be reviewed the next day in class, focusing on vocabulary and grammar.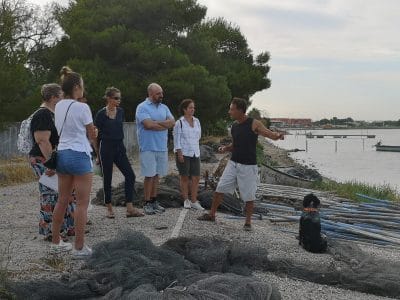 Intermediate (B1)
Advanced (B2/C1)
Monday to Friday
9am-12.20pm
Classroom-based French classes
Monday to Thursday
12.30pm-2pm 
Lunch with your teacher at a restaurant (informal conversation)
Tuesday to Thursday
2pm-3.30pm
Practical French conversation class
1 evening party
No enrolment fees
Price does not include meals with the teacher
11-15 March
15-19 April
24-28 June
24 June – 5 July
1-5 July
11-15 Nov
26 Fev. – 1 March
1-5 April
8-12 July
8-19 July
14-18 Oct.
If these dates do not suit you, you can submit your own dates here.
I WOULD LIKE TO KNOW MORE​
You want to know more about the courses? Do you have questions or a specific request? You do not know your level of French to choose your course? Fill out the form below and I will get back to you.