COURSE FOR
FRENCH TEACHERS
Update and strengthen your knowledge of French language and culture
Course description
Are you a French teacher in your country? Do you teach children, teenagers or adults and you need a little linguistic and cultural immersion? This course is made for you!

Please note that we can also host a small group of your students and offer them an immersion experience in parallel to yours (contact us for more information).
These courses are eligible for the Erasmus+ programme.

Course Programme
Morning – Classroom-based French Course
Morning classes will refresh your French language skills and perfect your knowledge of contemporary French society. These courses are accompanied by a reflection on the integration of this knowledge into your own teaching practice.
Noon – Lunch in a restaurant with your teacher
Chewing the fat over a good meal at a local restaurant with your teacher and your working group is the best way to extend the morning classes and get the practice in.
Afternoon – French lessons "in the field"
During the afternoon workshops, you will meet French colleagues (primary school, middle school and high school teachers), pupils and different actors from the world of education to exchange ideas and learn about their practice. This refresher on current French society will allow you to enrich and renew your teaching.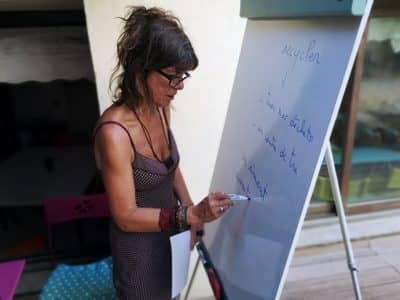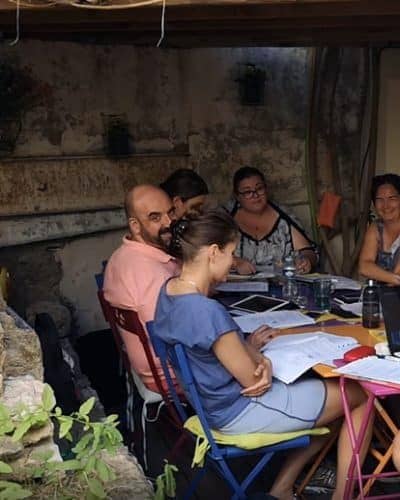 Course for French teachers
Monday to Friday
9am-12.20pm
French classes for French teachers
Monday to Thursday
2pm to 3.30pm
French classes in the classroom or "in the field"
Monday to Thursday
12.30pm to 2pm
Lunches with your teacher (informal conversation) 
Enrolment fee: €80
The price does not include meals with teacher.
Course for French teachers
6-10 Fev.
17-21 Apr.
9-13 Oct.
I would like to know more
You want to know more about the courses? Do you have questions or a specific request? You do not know your level of French to choose your course? Fill out the form below and I will get back to you.