Have you ever assessed your
french level ?
If you do not know your French level according to the European CEFR scale, Méditerranez-vous offers a free, personalised online spoken French level test!
This allow us to decide together  which course best fits your needs and level.
Please briefly introduce yourself using this form, and let me know your experience so far with French.
We will contact you within the next 48 hours to define a time slot for your test.
We have been offering online and onsite French courses to highly skilled people for fifteen years, including employees of the EU, the World Bank, NATO, ECOWAS and the UN.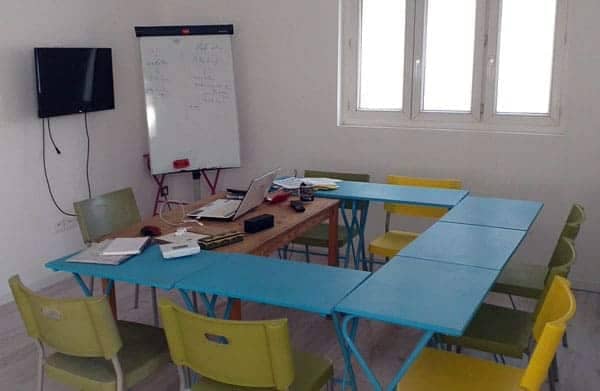 Share
French people's life
Since 2007, you learn to speak real French at Méditerranez-vous. How?
lessons aren't constrained by the 4 walls of the school, but take place outside of them too, in the real world (at the market, in restaurants, at the theatre, at the university, in a "sensitive" neighbourhood, on a farm, in a bakery)
groups are made up of 3-5 students on average: you will have plenty of time to speak!
your teacher stays with you during your breaks, and has lunch with you
your group is fixed and does not change from week to week: a friendly atmosphere conducive to learning is fostered.
To learn to speak a language, a complete environment of warmth, humanity and trust is required: this is what I have created for you.
I created this school in 2008 because, after a long career abroad, I wanted to propose a different pedagogical concept to foreigners who want to learn French or improve their level in France.
I received a diploma in FLE (French as a foreign language) in 1991, and then spent nearly 20 years abroad teaching French in extremely varied contexts in terms of countries and types of students.
I taught in Hungary, Bolivia, Israel, and Denmark; I worked for Instituts Français, Alliances Françaises, universities, and international companies. I met lovers of the French language, UN diplomats, NGO personnel, future French teachers, businessmen, and university students…
The contact with all these cultures was an amazing experience in pedagogical and culture diversity. Méditerranez-vous is the fruit of this experience.
Since returning to France, I've worked full time on Méditerranez-vous. I teach most of the courses personally, because teaching remains my favorite occupation!
Méditerranez-vous has a team that I have personally recruited and selected to help you to learn French
I've recruited a team of teachers who teach different courses, depending on their specialties.
I chose them because they have the qualities that good teachers should have:
they have a degree in French as a foreign language, because only (or practically only!) university provides structuring for the theoretical and didactic reflection at the basis of the profession;
they are motivated, because they must want to pass on knowledge;
they are rigorous and structured in their teaching, because the learning of a language is built up step by step;
they are dynamic and have a sense of humor, because students learn well only when they have pleasure;
they have experience of living abroad and of learning foreign languages, because having been faced with cultural diversity oneself is a plus for teaching one's language to foreigners.
Meeting and exchanging with French people are an integral part of the Méditerranez-vous courses. These people are not teachers; they are people who will help you practice "real-life" French and to familiarize yourself with different types of accents, ways of speaking, and vocabulary.
For example, you may meet: :
a social worker

an elected representative

an architect

a wine grower

a policeman

a political or NGO activist

a school teacher

a baker Catel (son site

)
C'était une expérience magnifique... C'était vraiment une immersion dans la langue mais aussi dans la culture française, parce qu'apprendre une langue, ce n'est pas seulement connaître les mots et les expressions mais c'est aussi comprendre la culture et l'histoire d'un pays.
Learn French in France or online from home. Choose the course that suits you !
Practice your French every day with this online French group course.
Practise French a little every day for a week in a virtual classroom with other learners from all other the world.
You benefit from having a teacher "at home" for 1 hour per day.
Practice your French once a week with this online French group course.
For one month, you'll practise French every week in a virtual classroom with other learners from all other the world.
You benefit from having a teacher "at home" for 1.5 hours per week.
Our one-to-one online courses are fully personalised and vary completely from person to person. Our one-to-one courses are tailored to your own needs, goals, and pace !
French immersion courses teach you to speak French in real-life situations. Accompanied by your teacher, you will be fully immersed in French language and culture.
In the Intensive French courses, you do a lot of speaking and a little writing. You learn the grammar and vocabulary needed to be able to quickly learn to speak French in everyday situations.
Our one-to-one courses are fully customised and vary completely from person to person. These course are adapted to your needs, goals, and pace, and can be worked around your existing commitments.
Professional FRENCH courses in France
Based on the professional needs of interpreters, these courses allow you to add French as a B or C language to your working languages, but also to improve your linguistic performance as an interpreter.
Are you a French teacher in your home country? Do you teach children, teenagers or adults and do you need a little linguistic and cultural immersion?
This course is made for you!
These courses are eligible for funding from the Erasmus+ programme.
Asses your french level now
We offer a free, personalised French level test! This allow us to determine which course best fits your needs and level. All you have to do is to fill this form and choose the date that suits you !