Summer 2020 special edition
Practising a language regularly IS the best way to make progress
Course description
In these unusual times, perhaps it is tricky for you to get to France?
That's why Méditerranez-vous is bringing French speaking opportunities to your home, with a native teacher there to help coach you through our online group course.
We don't use an anonymous digital teaching platform; you will only pay for your course led by a qualified (and dynamic!) teacher – just as it would be if you were in France!
Course summary
Online French courses

In the comfort of your own home, with other participants and a real teacher in front of you via videoconferencing.
You will improve your French, with your teacher correcting and guiding you – just as they would if you were attending a course in person.
Personalised French exercises 
In addition to the face-to-face online course, your teacher will provide you withpersonal oral and written exercises to complete independently or along with the other participants.
Everyone at their own pace 
Chose the schedule that's best for you: there are courses with sessions once or twice per week.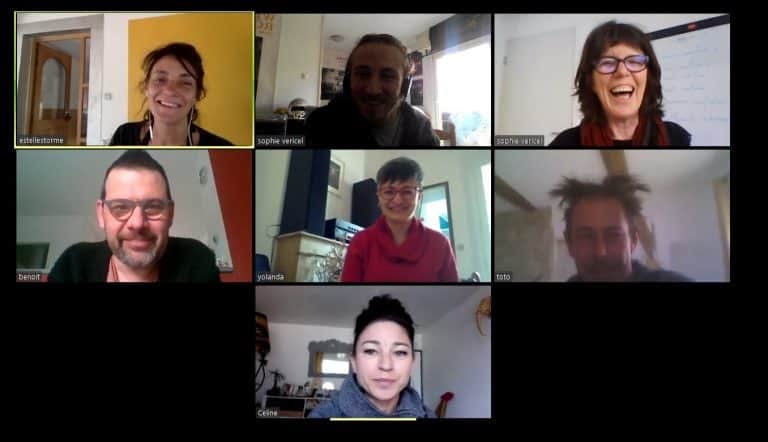 Semi-beginner
Intermediate
Advanced
Course for interpreters

1 X 90 minutes/week
2 X 90 minutes/week
Semi-beginner level
Monday: 17.00-18.30
Monday and Wednesday: 17.00-18.30
 Intermediate level
Tuesday: 09.00-10.30
Tuesday and Thursday: 09.00-10.30
Advanced level
Wednesday: 09.00-10.30
Wednesday and Friday: 09.00-10.30
Course for interpreters
Tuesday: 15.30-17.00
Tuesday and Thursday: 15.30-17.00

One session per week: 250€
Two sessions per week: 390€
ONLINE FRENCH GROUP COURSES
I would like to know more
You want to know more about the courses? Do you have questions or a specific request? You do not know your level of French to choose your course? Fill out the form below and I will get back to you.